In the early 1990s, a new kind of liquid crystal display became available: TFT-LCDs. i-sft has been a part of this new industry from the beginning and has been pushing its technical frontiers further and further in many aspects. Very often, we were the first to discover and approve new possibilities.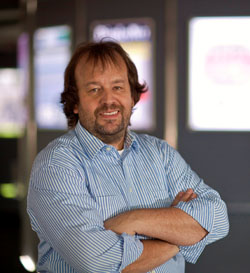 However, i-sft does not have an exclusive focus on TFT-LCDs. Instead, we concentrate on all rugged display technologies that enable high performance and stability in harsh environments. We always offer the technology best suited to the individual need.
It became clear to us right at the start of our activities that existing materials and processes rarely fitted the needs to create dedicated display solutions for the capital goods manufactured by our customers, such as trains, large excavators, and industrial machinery.
This lack of proper materials and processes lead i-sft to start R&D and develop what was needed but not available. Thanks to this we have accumulated many patents and IP together with unparalleled practical experience. We offer this knowledge to our customers to help them solve their problems.
Today TFT-LCDs are available easily and can be found almost everywhere. But this does not mean there is a "One-Fits-All" solution. The fact that a display is based on TFT technology does not say anything about its performance or ruggedness, just like knowing the horsepower of a car is not enough to determine whether it is a race car or a truck. Therefore, our business is to deliver a display solution that fits the needs, not just a set of numbers.
The fact that TFT-LCDs became so much cheaper today, often leads companies to buy a display that turn out to be very costly in the long run. After all, the purchase price amounts to just a fraction of the total cost of ownership if a display cannot stand up to the demands of a given environment and keeps causing maintenance and replacement costs.
To address individual operational profiles i-sft can create completely new and "tailor-made displays" - or develop the right solution based on existing designs, which can be modified to fit special requirements.
This reflects back into i-sft`s business structure and over the years we added more and more "education", such as workshops and consulting to our business portfolio to help to understand the ever increasing complexity of display solutions
Being part of the technological and scientific display industry and continuing our own R&D activities enables i-sft to offer state-of-the-art consultation and solutions for decades to come.