"Create your own display"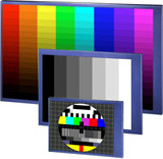 Basically all our display designs, but preferrably the below listed display desings, can be further modified with just a fraction of a complete set of NRE cost.
Modifications can be done i.e.
size
resolution
brightness
housing color/surface condition
mounting options
type of connectors
data interface (LVDS/CMOS/TTL/VGA/DVI/DP/HDMI/other)
supply voltage
dimming range
dimming control interface (CMOS/TTL/PWM/current/voltage/other)
touch integration
protective cover sheet
other
No modifications needed, if used as described in above listed display design. All customer driven modifications have to be confirmed from i-sft to be possible. After final confirmation of requested modifications a quote for the necessary amount of NRE will be send to customer. After formal ordering a final specification will be generated and send to the customer for approval in writing. No further activities will start before formal order is processed and written approval of final specification is in.